Sao Paulo, South America's metropolis, is to South-America what New York is to North America. It is the financial, economic and cultural hub of the Continent. Sao Paulo's attraction lies in its people and its vibrant cultures.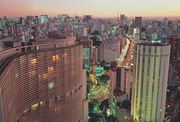 The city has many renowned landmarks, such as the Museu Paulista do Ipiranga, the gothic Metropolitan Sé Cathedral, the São Paulo Museum of Art (MASP), the Monumento à Bandeira Portuguese to Monument to the flag and Niemeyer's Ibirapuera complex Bienal, planetarium, and museums are among the finest in South America.

The active cultural scene invites you to lively concerts, first-rate museums, dance performances, music shows, classical & orchestra presentations and experimental theater. Entertainment options are sophisticated and stylish: nightclubs, bars, pubs, restaurants and gastronomic festivals are the best in the country. The city is home to a large number of local and international banking offices, law firms, multinational companies and consumer services. The local Paulistanos, from formal businessman to elegant fashion types, are extremely proud of their city and enjoy showing it off.

For those who love exclusive goods, shopping in Sao Paulo is a dream. The world's top luxury brands offer excellent choices of clothing, jewelry, cosmetics, wines and much more on the well-known Oscar Freire street in the Jardins district. The city is known for its varied and sophisticated cuisine, there are approximately 62 different types of cuisines in São Paulo, and more than 12,000 restaurants.

Once you have tried the efficient and impeccable transportation and subway systems, walking is a great option. Have a stroll in Sao Paulo along tree-lines avenues and amongst the glass skyscrapers along Avenida Paulista. Discover Oscar Niemeyer's masterpieces: spacious public buildings propped up by pillars. Don't miss Beco de Barman - the art street - completely covered in graffiti made by locals artists. Sao Paulo's surrounding coastline is graced with dozens of lovely beaches that stretch along its avenues and urban zones.
Sao Paulo is waiting for you to experience the diversity of Brazil Tours or you can check out the Tango & Samba itineraries including Buenos Aires, Iguassu Waterfalls & the Atlantic Rainforest or let us put together a Brazil Vacation Package with a custom tour of Brazil & all South America.
Community content is available under
CC-BY-SA
unless otherwise noted.