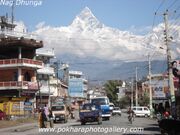 Pokhara is the largest city of Nepal in terms of area. It is the provincial capital of Province number 4, headquarter of Gandaki Zone and Kaski District. Pokhara in also known as Paradise City, or Simply a Heaven.
The valley of Pokhara is paradise, 200 kilometers west from Nepal's fabled Capital City of Kathmandu, at just 915 meters above sea level; this enchanting valley is one of the nature's rare places where dramatic views of the world's highest mountain can be enjoyed from a subtropical setting. Having a total of 7 lakes, Pokhara is known as the valley dotted with lakes.
Pokhara Photo Gallery Pokhara is divided into 5 different parts. North Pokhara, East Pokhara, Middle Pokhara, West Pokhara and South Pokhara.
Most beautiful places to see in Pokhara are; Devis Fall, Mahendra Cave, Gupteswor Cave, Fewa Lake, Barahi Temple, Bindabasini Temple, and the International Mountain Museum. The mail town of Pokhara is Mahendra Pul (Chipledhunga).
Pokhara offer cheap to expensive hotels accommodation to the visitors. New Pokhara Lodge located in lakeside. It is a beautiful & good Lodge. Other hotels list can be found on Hotels in Pokhara.
Community content is available under
CC-BY-SA
unless otherwise noted.